Welding protection: Thermal Blanket or Fire Blanket?
What do we call thermal blanket for welding, and what do we call fire blanket in welding?
The welders sphere require a high security degree to develop its professional activity properly. An inadequate product for a specific task could create risky situations and reduce the efficiency and quality of the weld. So, it is necessary to know the technical features and functions of the available products in the market.

When we talk about welding blankets, we must differentiate between welding thermal blankets and welding fire blankets: Welding Thermal Blankets are place in direct contact with product and their aim is to decrease the temperature of the welded object in a progressive and gradual way, in order to make an optimal welding quality. To achieve this, mineral finishes with a higher thermal isolator degree are used, like Vermiculite.

Welding fire blankets, on the other hand, are designed to repel sparks, slags and melted metal that had been projected from the welding point. They also perform as a thermal barrier, but against hot fragments proceeding from the piece and not over the piece in general. In addition, they could be placed vertically or horizontally, allowing a big range of configurations for different welding contexts.

It is important to know these difference when buying the product that will be more efficient and will help to warrant a good work and a great weld quality.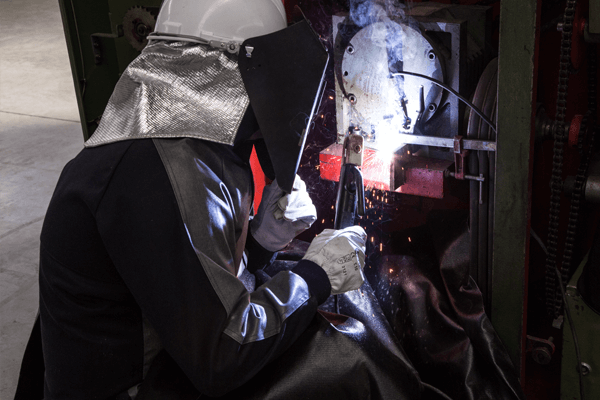 Texfire makes available the flame retardant range for welding protection with three levels of protection, in addition to flame resistant fabric for welding. Both categories of the product are designed to protect not only from the projections of splashes and sparks, but also against heat and fire. In addition to the comfort of its fabric, they also offer a high security and protection by meeting the regulations ISO 9185 (splashes from big masses of melted metal) and EN ISO 11611 (welding and during connected techniques).