Fabric resistant to welding, which also performs as a thermal barrier
There are many Flame retardant fabrics for high temperatures that greatly resist welding impacts. But only a few also perform as a thermal barrier impeding that temperature moves to the fabric other side.
Texfire has been working during many years on the development of innovative technical fabrics, with applications on high temperature environments. One of its best apportations to the marketplace has been WELD SX fabric in the welding sector. Weld SX is a flexible, light (750gsm) fabric that repels greatly welding and radial cut impacts, horizontally as well as vertically.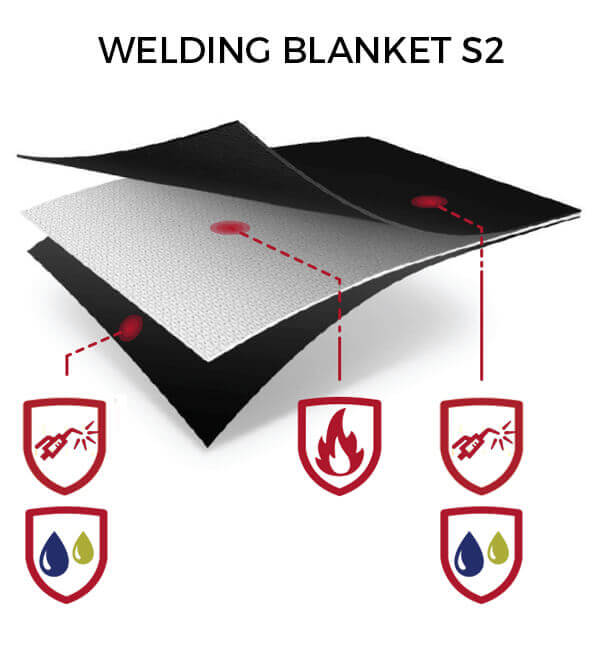 In addition, it has a unique selling proposition in the marketplace, thanks to its multi-layered construction of many layers, it avoids that the temperature enters arriving to the layer's other side. Suitable to protect surfaces or delicate elements of a welding operation. WELD SX fabric has another important benefit before the other fabrics for high temperatures. Thanks to a special silicone coating for high temperatures, it resists fusioned metal splashes, up to 1300ºC. Turning it on the ideal fabric to create protection covers for electrical wiring or mobile components in areas such as steel industries or steelworks   Test on liquid metal spilling, EN9185, were performed over Weld SX fabric and the obtained results either in iron splashes ,1300ºC, as well as aluminium splashes ,815ºC,  were the highest according to European regulation EN 9185, the highest protection according to the standard test.