How to choose between the different types of welding blankets?
What should you take into account when choosing a flame retardant welding blanket?

There are different kinds of welding blankets on the market, simply because the welding techniques are different, there are light welds and other harder ones and based on this the projections will be less or stronger, in this way the blankets are chosen according to the type of welding that is going to be carried out.

What do these fire blankets have in common, and what makes them different?

The most commonly used material in the manufacture of welding protection blankets is fireproof glass fiber fabric, due to its properties:


Insulating.
Resistant to high temperatures.
Heat-resistant.
Slip resistant.

Fiberglass is obtained by filtering molten glass through a piece with very fine holes and when the glass cools down, the material obtained becomes flexible enough to be used as fiber. From this raw material, different types of fabrics are formed which are very resistant to high temperatures and when mixed with other materials, composed of minerals or simply covering the glass fiber fabric with them, it acquires much more resistant properties.

The difference lies in the basis of their composition. Welding blankets can be found on the market with:


Silicate coating.
Polyurethane.
Vermiculite.
Aluminum foil.
Graphite.
Ceramic.

Which provide technical properties to the fabric according to which the blanket may be used for applications in:


Horizontal or vertical planes.
On one side or on both sides.
To protect us from low or high intensity welding or for cutting techniques.
It may have greater capacity as a thermal or electrical insulator.

There are other fireproof blankets for use in special welding that are used in cooling processes of parts, molds or objects that have been welded, its function is to control the temperature to drop gradually, this is the case of thermal blankets.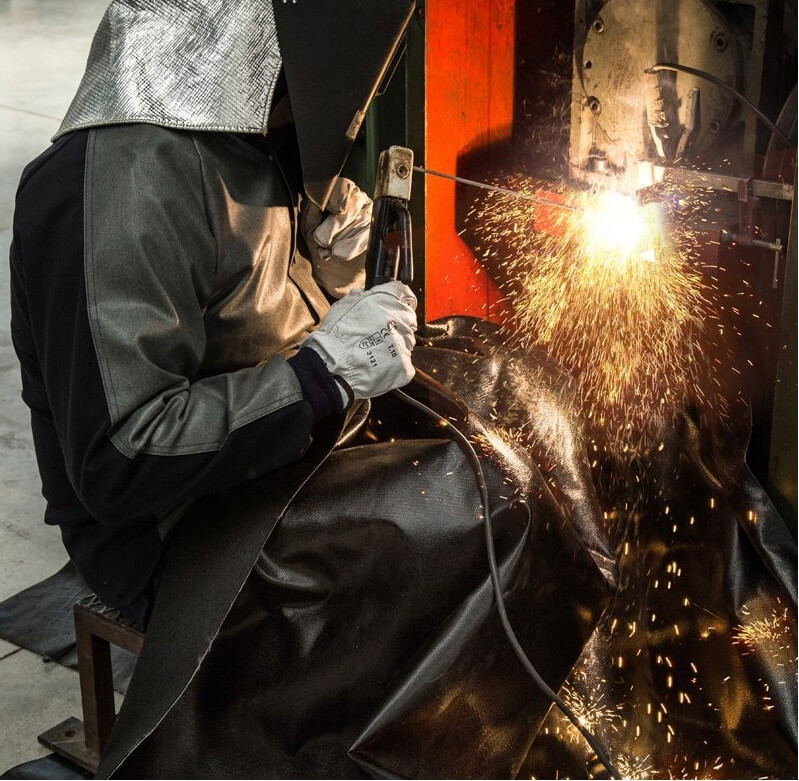 What other aspects should we consider when choosing a welding blanket?

Main elements to take into account when choosing the right blanket:


The working temperature.
The type of fusion of the metal we are going to work with (steel, iron, copper or aluminum, metal alloys, etc.).
The type and level of spatter emitted by the welding technique to be used.
The scope of the spatter.

Texfire offers a fireproof line for welding protection, which includes both fabrics and fireproof blankets, both designed to protect not only from spatter and sparks, but also from heat and fire, designed to be used on both sides and in both vertical and horizontal positions. In addition to the comfort of the fabric, they offer high safety and protection as they comply with ISO 9185 (spatter from large masses of molten metal) and EN ISO 11611 (welding and related techniques).