Flame retardant blanket with magnets: Multiple uses in one single product
Flame retardant blankets with magnets for metallic surfaces: safe magnet fastening and reduction of damage risks in workplaces
A welding blankets with magnets, with magnetic clamping system, is a welding protection complement very useful in workplaces like:
Automotive repair shops.
Locksmiths.
Shipyards.
Repair and industrial maintenance industries.
This type of blankets incorporate 20 times more magnets, which let them be fixed in the area where the work is done. This implies a great advantage, because in many occasions it is hard to find a fixing system, on metallic surfaces, where a flame retardant blanket could be adhered for welding protection.

In addition, they also could be used in warehouses' metallic structures, as a curtain to organize or hide materials or areas, which require a higher protection against fire or sparks. Magnets, as a fastening system, applied to a flame retardant blanket, help to:
Fix directly, and safely, the blanket to metallic surfaces.
Avoid damages on the paint or structure which is going to be repaired.
In automotive repair shops, they also allow protecting the vehicles' interior.
Avoid scratches on metallic surfaces.
Protect and avoid burnings due to projections of welding sparks.
Also, if the blanket is raincoat, they also avoid damages by liquids spills.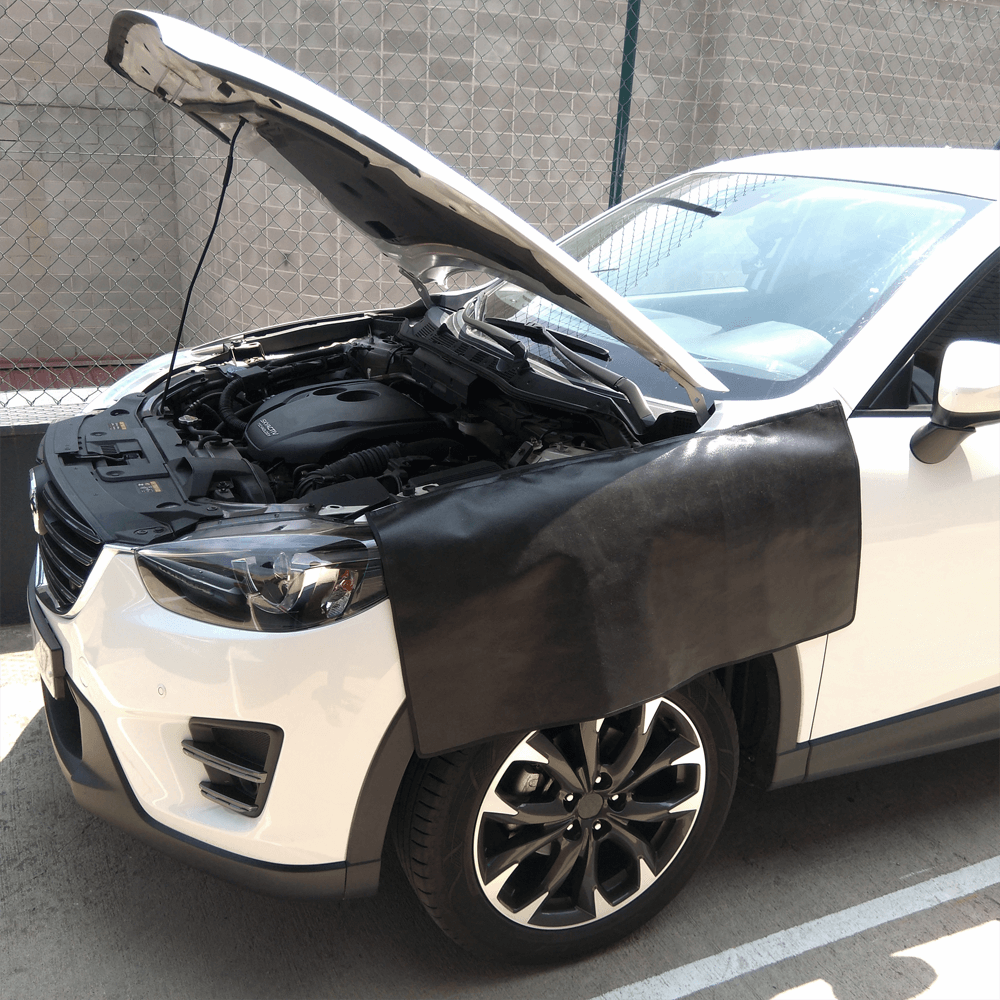 On sectors where metal is worked, when a mechanic or welder prepare the working area, 2 questions are often asked:
How and where I should fix the welding blanket?
What can I do to avoid that the fixing system doesn't damage the surface?
Protecting a surface effectively and safely is not only a question of the blanket's dimensions, or its fabric composition, but the fastening is needed to be stable and allows working in the best safety conditions. The use of a magnet fastening system is very easy and efficient to achieve a more:
Tense.
Easier.
Faster.
More comfortable.
Safer vertical fastening.
Another alternative are welding blankets with grommets, which are very useful because they allow us to improvise and delimit vertical spaces, converting them in a sort of screens or welding curtains.
While working on metallic surfaces, where it is needed to adhere the blanket directly to the working area, blankets with grommets could be harder to fix or hang. In addition, it applies the use of fastening accessories like hooks or ropes, which implies that the blanket won't be completely tense always. Thus, the use of a magnet fastening system is a very easy and efficient solution to achieve a more tense, easier, faster and safer vertical fastening.
Inside Texfire's range of flame retardant blanket for welding protection, you can already purchase magnetic flame retardant blankets for welding, tailored with Weld S2 fabric, and incorporate 4 magnets on the upper part, which converts them on the ideal blankets to weld over metallic surfaces.