What is a permanent flame retardant fabric?
Permanent flame retardant: An unalterable feature with time and washes.

Texfire uses for all its projects one type of fabric: a permanent or intrinsic flame retardant fabric. It is a technical fabric that, avoids the fire spreading, and the auto extinction of the flame.

Permanent flame retardant fabric is a type of technical fabric that avoids fire propagation and its main feature is that this fire resistance, keeps unalterable over the years: nor with abrasion by the garment's use or washes, its efficiency before fire is not altered...
Before explaining the meaning of the adjective "permanent" applied to flame retardant fabrics, we will briefly remind what the word "flame retardant" means when we talk about a technical flame retardant fabric. A topic already mentioned in the post FLAME RETARDANT:

DOES IT NOT BURN OR DOES IT DELAY FIRE?  and that concludes that "flame resistance is a fabric's feature that makes it not burn, nor spreading flame and automatically extinguishes fire when the ignition source is withdrawn".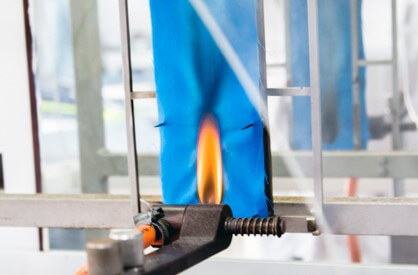 Permanent flame retardant

A permanent flame retardant fabric is a type of technical fabric that avoids fire spreading. Its main feature is that its flame retardant features reside in its composition materials and don't depend in any case from a finish or a special treatment process: it is knitted directly with threads composed by flame retardant threads already, so its features are inherent. From its advantages, we highlight that this flame retardant feature remains unalterable in time. Due to that we can affirm that it doesn't matter the number of washes that the garment is submitted or the abrasion it suffers. The fabric tailored with these threads will keep reacting to fire in the same way. Amongst flame retardant fabrics most highlighted and used in textile in a global level, being the most resistant to fire and heat, we could mention: Mineral fibers like fiberglass, synthetic like aramid fibers and the most transmirable and skin friendly, like modacrylic fibers or FR Viscose.

There are other fabrics considered "flame retardant", that start from a NON FLAME RETARDANT composition, like for example: cotton, that through a treatment, covering, impregnation or special finish with ammonia or sulphurous products, this fabric behaves as a flame retardant fabric, during some time.


The main unadvantage of these fabrics, unlike permanent flame retardant fabrics, is that garments lose its efficiency after the succesive washes done dring its useful life. The use and sweat of the user also increase the reduction of its flame retardant features.  On the other hand, when deciding from a kind of flame retardant fabric, another aspects besides its time durability are valued, like its weight and comfort. Hence, it should be noted that if for the use of PID - individual protection equipment - the fabric is tailored with permanent flame retardant fabric, this will be safer to the contact with flames, ensuring that its protection features will be continuous during the useful life of the garment and also, those are the ones that bring a higher comfort to the user, in addition to the required protection against splashes of metals in fusion, heat radiations, electric arc and to any welding and oxicut task. Texfire, developer of technical fabrics and texile solutions against heat and fire, uses for all its projects, Inherent (permanent) flame retardant fabrics, using Aramid, Modacrylic, Mineral fibers and other blendings, always sewn with aramid thread, during the confection process of all its products.