What is a permanent flame retardant fabric?
Permanently flame retardant: Property unalterable with time and washing

Texfire uses one type of fabric for all its projects: the permanent or inherent flame retardant fabric. This is a technical fabric that prevents the spread of fire and the self-extinguishing of flames.

The permanent flame retardant fabric is a kind of technical fabric that prevents the spread of fire and its main feature is that this fire resistance remains unchanged over time, neither with wear and tear by the use of the garment nor washing, do not diminish its performance against fire...

Before commenting on the meaning of the adjective "permanent" applied to flame-retardant fabrics, we will briefly recall what the word "flame-retardant" means when we talk about a technical flame-retardant fabric.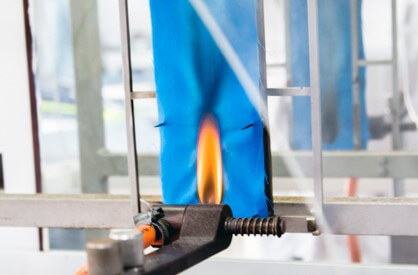 A permanent flame retardant fabric is a type of technical fabric that prevents the spread of fire. Its main characteristic is that its flame-retardant properties reside in the materials of its composition and do not depend in any case on a finishing or special treatment process, it is woven directly with yarns composed of fibers that are already flame-retardant, so its properties are inherent.

Among its advantages, we highlight the fact that this flame retardant property remains unalterable over time. That is why we can affirm that it does not matter the number of washes to which the garment is subjected, or the wear and tear it suffers. The fabric made with these yarns will continue to react to fire in the same way.  Among the most outstanding flame retardant fibers used in textiles worldwide, for being the most resistant to fire and heat, we can mention:


Mineral fibers such as fiberglass.
Synthetic fibers such as aramides.
The most breathable and skin-friendly, such as modacrylic or Viscose FR.


There are other fabrics that are considered "flame retardant", which are based on a non-flammable composition, such as cotton, which through a treatment, coating, impregnation or special finish with ammonia or sulfur products, makes this fabric behave like a flame retardant fabric for a period of time.

The main disadvantage of these fabrics, unlike permanent flame retardant fabrics, is that the garments lose their effectiveness with successive washings. The wearer's use and perspiration also accelerate the decrease of their flame-retardant properties.
On the other hand, when deciding on a type of flame-retardant fabric, other aspects are also taken into account, apart from its durability over time, such as weight and comfort.  Thus, it should be pointed out that if PPE - personal protective equipment - is made with permanent flame-resistant fabric, it will be safer when in contact with flames, guaranteeing that its protective properties will be constant throughout the useful life of the garment and in addition, they are the ones that offer greater comfort to the user, in addition to the protection required for:


Splashes of molten metals.
Heat radiation.
Electric arc.
All welding and oxy-cutting operations.

Texfire, which develops technical fabrics and textile solutions against heat and fire, uses Inherent (permanent) fireproof fabrics for all its projects, using Aramide, Modacrylic, mineral fibers and other mixtures, always sewn with aramide thread, during the manufacturing process of all its products.