Diablots d'Olesa release flame retardant suits
Passed June 7th the group of Diablots d'Olesa released their new suits tailored with flame retardant fabrics and thread Texfire in a big party where they could enjoy with maximum security from fire and dances.

Diablots d'Olesa are a group of semiprofessional correfocs with more than thirty years of experience and are present in many local parties, and even they have crossed the Atlantic to other countries to enliven and show part of our popular culture. They are real experts in fire parties and securities importance on those.

Every time there are more groups of correfocs, diables… that know the importance of using flame retardant fabrics in their suits for their protection.

Correfoc is a popular cultural manifestation highly rooted to Catalonia, Balearic Isles and Valencia. Descending from popular diables dances dated already in Catalonia in 12th century, is a festive tradition where a group of people disguised or not as devils, beasts or witches, parade running, dancing and jumping among fireworks through the streets of a municipality.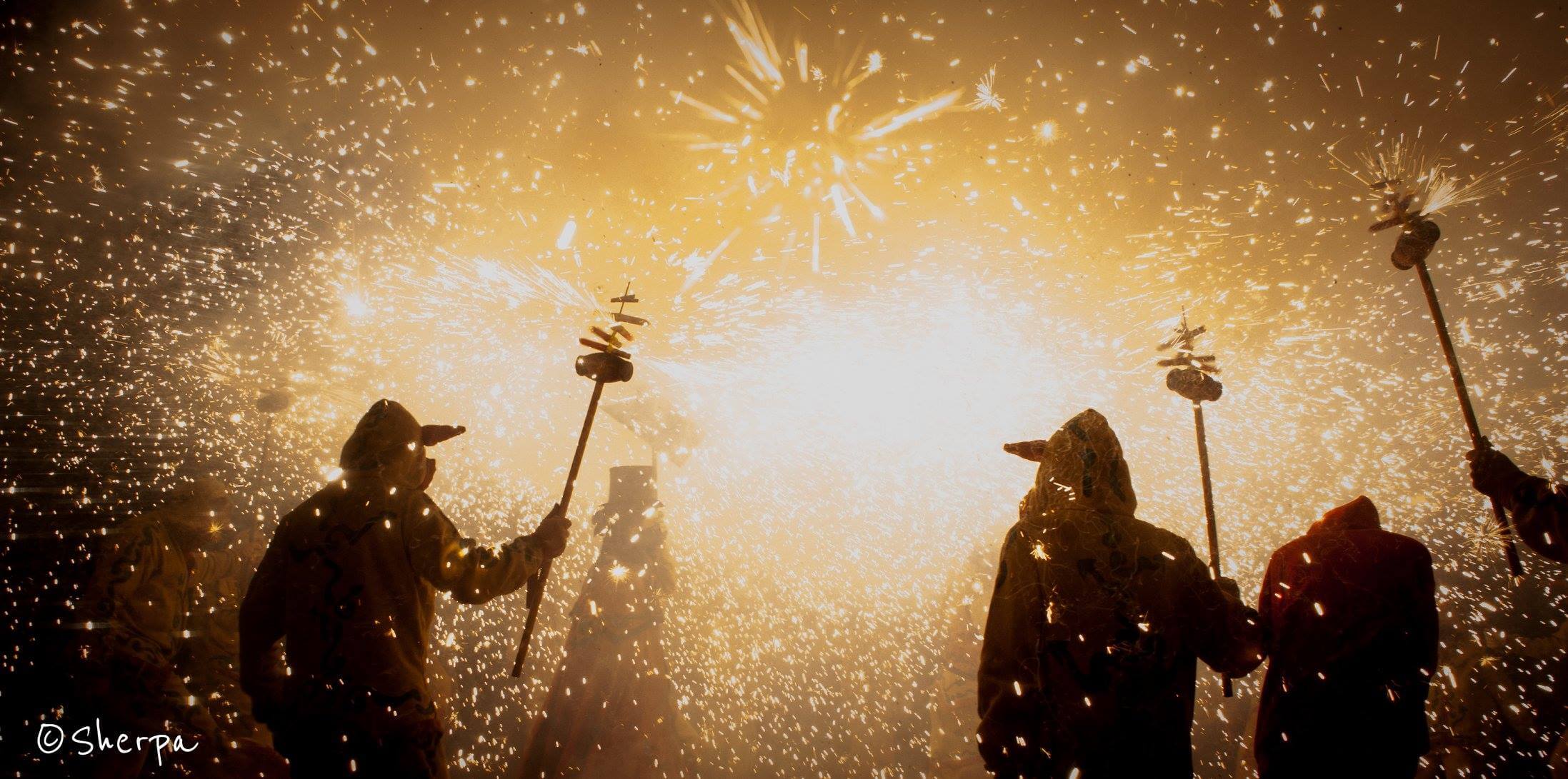 After that in 2007 the Directive 2007/23/CE from European Parliament was published and put in vigor in 2010, legal dispositions, regulatory and administrative regarding the use, security and functioning of fireworks products, groups of correfocs, devils, witches, fallas... are affected and destined to its almost extinction because that directive limits the security distance from audience as well as professionals performing, between 8 and 15 meters minimum, according to the firework products' category.

This is one of the security measures stated in Directive 2007/23/CE that affects more to festive groups that use fireworks in our country and due to that Secretary of State published in 2010 the Technical complementary instruction number 18 from real decreed 563/2010. The aim of that technical instruction is regulating the use and commercialization of fireworks articles by "Consumer Groups Recognized as Experts (CGRE) in religious, cultural and traditional festive manifestations".

Thus, some security measures are regulated, limiting the explosive charge in fireworks products destined to festive activities, the use of it and security distances shown in Directive 2007/23/CE are erased. This provokes, on one hand, that groups of correfocs, diables... Are forced to meet a series of safety rules and, on the other hand, to enjoy from the right of the cultural and folklore respect in our lands very associated to fire and water activities.

Consequently, both publications (Directive EU and ITC-18), groups of correfocs, diables, bruixas, circus schools with fire jugglers... They see the importance of using flame retardant fabrics to tailor their dresses and being totally protected before accidents that could suffer by being exposed to a shower of sparks caused by fireworks that use in their shows, and due to these motives every time there are more groups that buy flame retardant fabrics for their safety.