3 Reasons to have a flame retardant carpet in front of the chimney
Flame retardant protector for the floor which also isolates from heat and it is impermeable
Winter is a synonym of cold, home, family and, of course, chimneys and stoves. Nowadays, there are very efficient systems to keep a comfortable temperature at home, for instance, gas heating or underfloor heating, even then the use of chimneys or stoves brings a plus of warmth and comfort to the house.
When a chimney is on, it is very usual that wood sizzles and even some ashes or fly ashes are released from it. Due to that, it is important to protect the space in front of the chimney or stove, because these fly ashes and ashes caused by the fire could harm the floor or other close elements.
A practical, economic and convenient way to protect the floor is by the use of a flame retardant carpet, because in addition to being an economic complement to prevent dangers, it could be used in different areas or activities. For example, as a floor protector in
Kitchens.
Close to ovens and cookers.
In barbecues.
Because, due to its composition, it will also avoid that some liquids or acids could harm the floor. For these and other reasons, it could be important to have a flame retardant carpet:
It protects the floor from sparks, flames or the flying ashes released when the fire is turned on. It protects the floor from liquid and acid spills that could stain it, and even harm it.
Thanks to its permanent flame retardant features, it could be used as a safety element to suffocate an incipient fire, because it doesn't spread the flame. (Although for this need it is highly recommended to use a flame retardant blanket).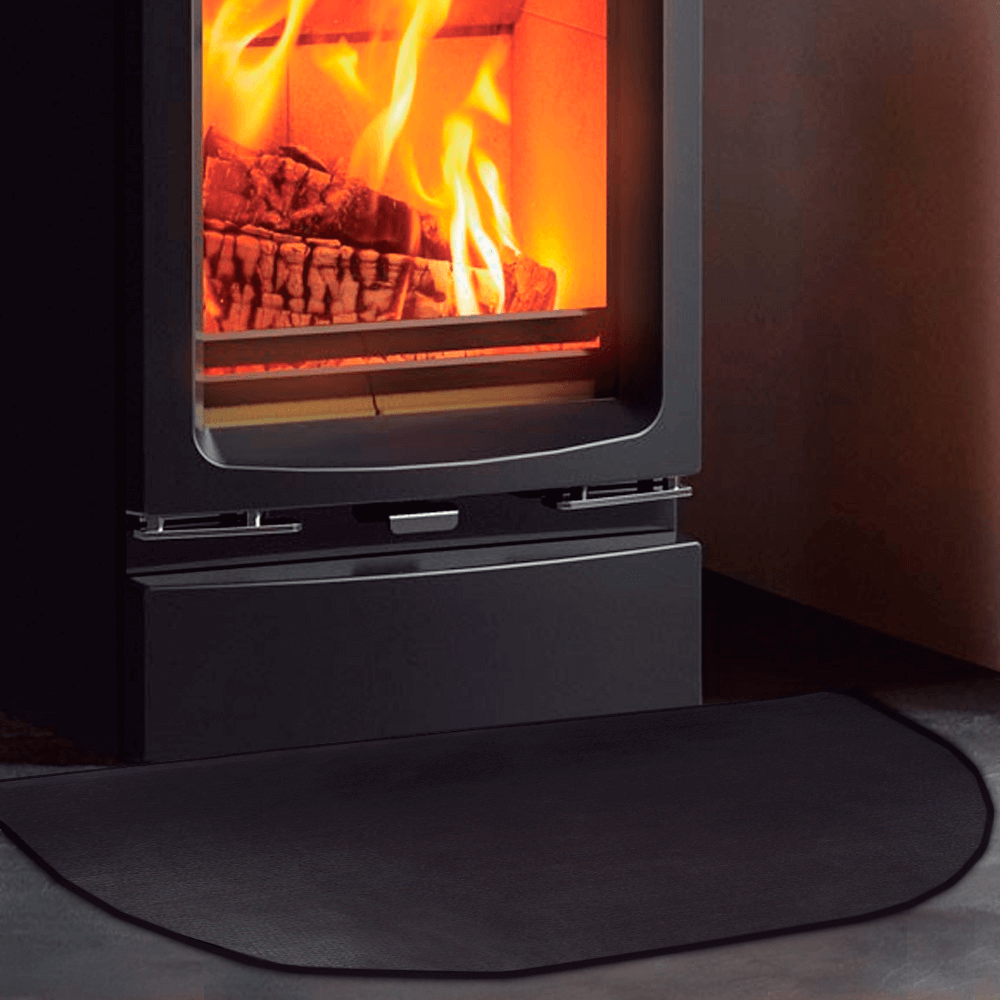 The use of a flame retardant carpet could go beyond home, in outdoor activities, as for instance on camping, this carped could be used as a flame retardant mat, covering the floor where the tent is going to be installed.
Texfire, constantly developing and looking for new solutions against heat and fire, is still improving its range of flame retardant carpets to protect the floor, not only indoors (chimneys and stoves) but also outdoors. In this sense, Texfire has recently exhibited a custom-made service, with great acceptance of our customers. Currently, the range of indoors carpets include two models for chimneys:
Both with two sizes to choose. In the case of the outdoors flame retardant carpet, there is one rectangular model in two sizes.