Flame retardant carpet or floor protector?
Flame retardant floor protector, a special carpet

When we talk about carpets, we associate the among other functions, as a floor protector by its elemental role of protecting the floor where it is placed, independently of being in bathrooms, bedrooms, dining rooms, etc., but when we add the adjective "flame retardant" to this article, we immediately relate that the suitable area to use it will be:
Kitchen floor.
Closer to oven.
Before chimneys.
Where we have a barbecue.
It is it tailored with permanent flame retardant fabric, so it could be used even to stop a fire in case of an incipient fire, because it doesn't spread flames due to its flame retardant and fire-resistant features.

In essence, we refer to a kind of mat, that while its design is similar to a carpet or even to a doormat, it is not exactly because its function will be more specific, resist:
Sparks.
Flames.
Ashes.
Stains.
Acids.
Water.
So they are suitable to place in prone areas like kitchens, ovens, before chimneys or under a barbecue and even under a camping tent. This type of flame retardant carpet is ideal not only indoors, but also for its outdoors use, because it has a good resistance when being exposed to Sun or rain and unlike common carpets.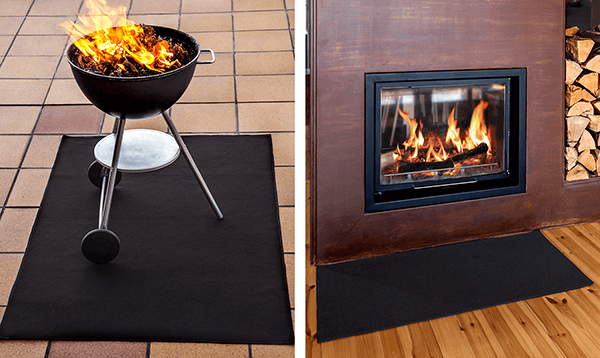 Texfire has developed a very specific range of flame retardant carpets - floor protector for barbecues and chimneys, that also have technical stain resistant and humidity properties, it is very functional and light and also shows a non-slip feature. Down below, we will inform about some points to take into account when choosing a suitable Texfire carpet-floor protector according to the area to protect and its maintenance.

How to choose the perfect size?

Simply the perimeter of the placing area must be taken into account, being a barbecue and in the case of using it before a chimney, the size proportion of it.

How to extend its useful life?

Place upwards the impermeable coating size. Its maintenance is very easy, it could be cleaned with a simple wet cloth. If used punctually, and you wish to store it, it will be suitable to roll it, no matter the storage position (horizontally or vertically), but vertically is more suitable to avoid deforming it.