Welding blanket as a protection to any environment
How could we guarantee more protection when welding?

During a welding process or oxycutting, sparks or metal projection could fall over non-protected places and even over the welder; use a welding blanket to protect from these risks raises work safety. Flame retardant welding blankets help us to protect flammable materials, machinery, equipments, furniture or any other object.

Besides its use is not implemented in welding work ships and welders search them urgently when clients demand them to protect environment, having them is very useful in any welding job because, as we already know, they are tailored with flame retardant fabrics apt to withstand high temperatures and to protect us in any kind of accident that could derive in a fire.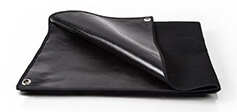 Blankets are a protection barrier to projections and metal splashes.

According to acts and regulations of working prevention and risk established for welding jobs, the use of personal protection equipments (PIDS) as, for instance:


Jackets.
Aprons.
Hoses.
Protector screens.
Glasses.
Welding curtains (offer safety and protection against projections and UV beams).
Adding a welding blanket to this equipment helps to create a protective barrier against any kind of splash, spark or slag of melted metal.

Our reflection is that the use of welding blankets as a preventive measure will contribute to avoid sparks reaching objects, isolate the workplace, protect people and so avoid bigger accidents, because any working environment could be vulnerable to the presence of ignition spots. Tefire's experience reveal that anywhere in the environment, it is important to have a welding blanket's protection.