How to choose a flame retardant blanket to weld stainless steel
Flame retardant protective element in stainless steel welding

Once again, we pretend to orient the use and selection of flame retardant blankets as a basic element of protection when we perform welding techniques, in this occasion when the metal to weld is stainless steel.

Stainless steel is well known by everyone, it is defined as an iron alloy that has iron as a fundamental element (FE) and in order for it to be stainless it must have a minimum of 10.5% of chrome (CR). It is a very hard and very heat-resistant metal and also has a high resistance to oxidation, hence its stainless denomination. There are different types of stainless steels, classifying them according to the quantity of chrome they have.

In general terms, Stainless Steel = FE + Cr + C (alloy)


What should be taken into account to choose a welding blanket to protect ourselves from sparks and splashes derived when we work with stainless steel?

We should know the fusion point from stainless steel:


Fusion point: between 1370 and 1400 degrees
Simply take into account that welding blankets meet the following technical features.


Offer resistance until 1500 degrees at least.
Good results to projection of big masses of melted metal.
No burning nor melting.
Effective as a barrier to block heat.
Resistance to electric conduction (thinking that during welding jobs it could occur any electric accident).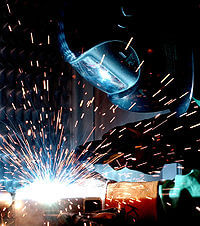 How do we know if the blanket we buy has these features?

For our part we ensure that the range of flame retardant product for protection Texfire is created under strict quality controls and submitted to different proof tests meeting the requisites of regulations ISO 9185 (splashes of big masses of melted metal) and ISO 11611 (welding and during connected techniques).

Texfire blankets are available in two sizes:


In addition, to be used no matter the distance, nor its position or the used face. Texfire also puts into your disposition flame retardant fabrics from 150 linear meters wide, suitable by its width to protect larger areas.

If you are interested in knowing more of Texfire's ranges of flame retardant fabrics, contact us in through our contact form.