BBQ heat isolator apron
Barbecueing is sign of good athmosphere, but the ocassion also implies a meeting with heat and fire detached by barbecues.


3 Properties from Barbecue Apron Texfire: Protects from Heat, Fire and Greases.
The innovation of having a heat isolator apron when you are in front of the barbecue and, also, protects from coal ashes, flames and fire could be found in Texfire's website, a company with the profile of developing textile solutions against heat and fire, that has released a range of flame retardant kitchen clothing accesories that include professional mitt and where the heat isolator apron for barbecues could be found with the following features:
Isolates heat 5 times more than a traditional apron.
Flame retardant, stain repellant and greaseproof.
Does not need to be cleaned, with a simple wet cloth greses and sauce splashes are removed.
The fabric by which this BBQ apron Texfire is tailored is considered flame retardant with a aluminium layer un one side, and meets the European regulations EN 15025, EN ISO6942, wich brings the apron flame retardant and radiant heat isolator properties. It should be noted that the aluminised fabrics are used in the industry taking profit of the reflective power of aluminium to protect from heat in places where the operators has to work close to high temperatures, ovens or fire extintion environments.
Aluminised fabrics, according their composition, can isolate temperatures up to 500ºC in a short time of exposure.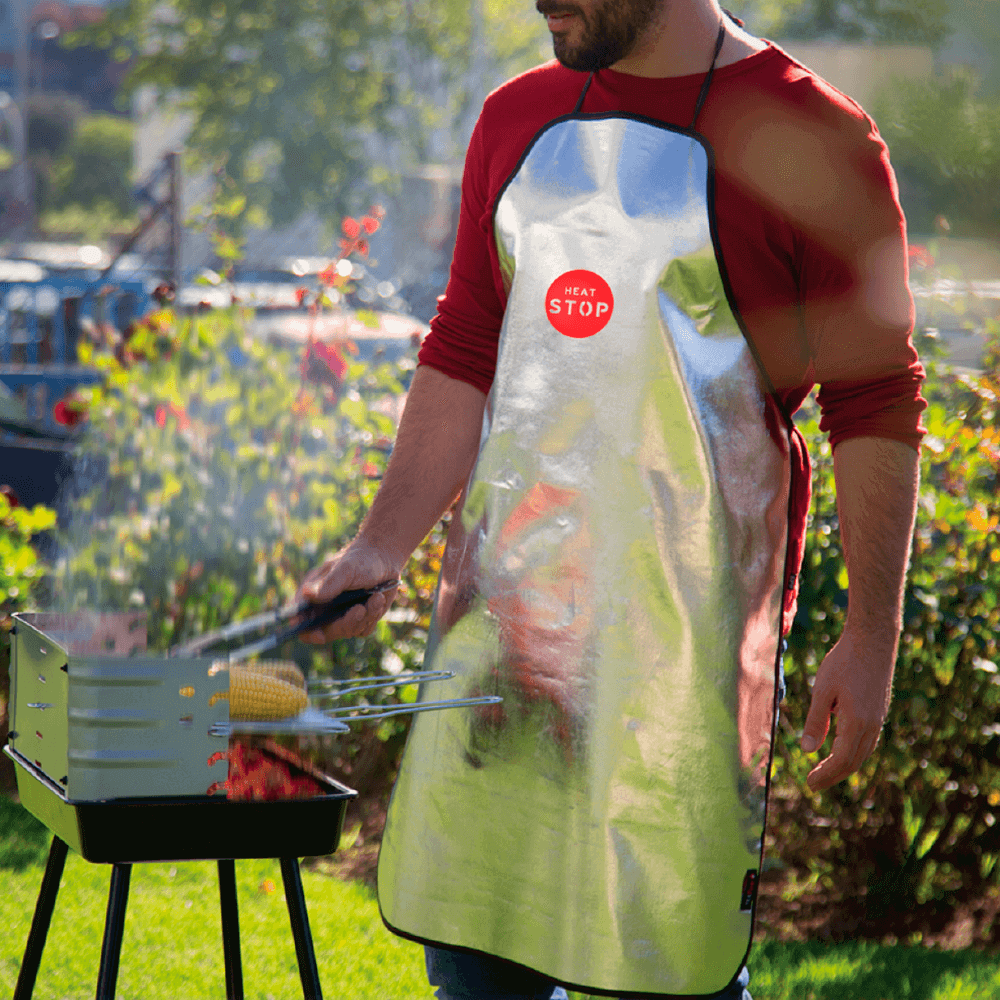 This features are also owned by the barbecue apron developed by Texfire, becoming the pleasure of barbecuing in a combination of security and comfort. If barbecueing is sign of good athmosphere, but the ocassion also implies a meeting with heat and fire detached by barbecues, because of this is necessary to have good tools to its complementation, having a barbecue set is having cooking utensils, kitchen cloths, gloves or mittens and if also the heat isolator apron is used, the work will be done with higher security and comfort in front of the barbecue.
In the market there are different designs of barbecue aprons, some with multiple pockets that facilitate to have by hand all the barbecue utensils, cloths, mittens or gloves needed, other with very daring and picturesque stampings related to the activity of cooking that brings much pleasure and desires of the perfect roasting.
Other brands offer leather aprons suitable for barbecuing, very safe because they protect from sparks and splashes of fire in the barbecue, although many times they are quite heavy and warm.
Kitchen cloths and mittens protect from heat in hands and a Texfire designed  barbecue apron, is flame retardant, greaseproof and heat isolator, so it will protect not only the clothes from dirt but also the body from that heat caused by fire and flames, combining functionality with the pleasure of barbecuing.