Texfire will assist as visitor
Texfire will visit the 29th edition of BIEMH 2016, Bienal Española de Maquinaria y Herramienta (Spanish Biennal of Machinery and Tools), listed as Europe's second most important exhibition, that will take place from May 30th to June 4th in Bilbao's fairground: Bilbao Exhibition Center, BEC.

1500 exhibiting companies from around 30 countries have confirmed their assistance, with profiles of:
Manufacturers.
Importers.
Distributors.
Subcontratation companies.
Machinery.
Tool.
Component and accessory buyers.
Welding and oxicutting.
Electrical and electronic units.
Services for workshops.
Industrial supply companies.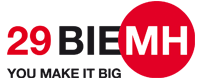 Parallel to this event ADDIT3D will take place, from May 31thto June 3rd, an OIL & GAS Conference (May 31st to June 1st) and Maintenance Innovation Conference (June 2nd to June 3rd), that will transform Bilbao Exhibition Center in a real area of industrial interest. 29th BIEMH will be for Texfire and all its participants a scenario of opportunities, to create new business contacts and professional interest, where new potential clients could be met with a profile in categories of labor protection industrial supplies and welding accessories, where Texfire offered blankets range, accessories and fabrics for welding protection could have an attractive potential market. In addition to bring the chance to know all the developments and new tendencies in the sector.